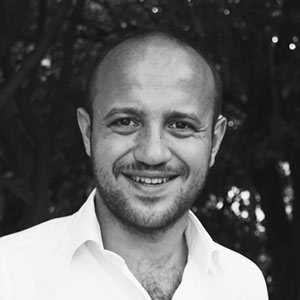 Salar Shahna
World VR Forum | Switzerland
Biography
Salar Shahna, a native of Geneva, Switzerland is the Creative Director and CEO of the World VR Forum. His vision shaped the artistic orientation of WVRF's annual summit which was acclaimed unanimously by its participants.  In 2016, he extends the prime mission of the forum by initiating WorldVRlab which finds, develops, and supports extraordinary creative talent who are devoted to crafting the immersive language of Virtual Reality. With a strong footprint in China, Salar is also pursuing development of cultural trade between the West and China. His expertise in the uses and the market of VR leads him to participate as an expert in major events throughout globe (NabShowShanghai, Sundance Film Festival, EMTS, Cannes, Venice…).
He moved from cinema to VR in 2015, joining apelab as Production Advisor on the series Sequenced (GDC 2015, Sundance 2016). In 2014, Salar's rewarded for the transmedia strategy on Claude Barras' film My Life as a Zucchini (Cannes 2016, Césars 2017, Oscars 2017 nominee) with Rita Productions; where he worked for TV and cinema from 2011 to 2014 as Production Manager (Blame it on Rousseau, Dirty Gold War), Producer (Miss Ronde) and Director (The Bakery, Human Race 3D). Salar holds a dual Master's degree in Hypermedia/Communication from Annecy, France and Sao Paulo, Brazil.
WVRF
World VR Forum (WVRF) is a NGO based in Geneva dedicated to VR and AR holding its annual summit mid-spring in Crans-Montana, Switzerland. Its 2017 second edition gathered 2500 professionals and enthusiasts for a high-level forum and an immersive festival. WVRF has set new standards for VR, opening the Forum to rich diversity and dedicating a customized space for each work on a mission to erect VR as a distinguished art form. WVRF supports VR internationally in partnerships with Film festivals and markets (Si'an Silk Road International Film Festival, SIFF Shanghai, SUNNY SIDE La Rochelle, NABShow Shanghai…); or official events (WSIS Geneva, CIC China…). WVRF also releases scientific publications for the advancement of Virtual Reality (Pr. Philippe Fuchs, Dr. Nicoletta Iocabacci, Aimone Bodini…); supports production through its lab and has extensive network for distribution. The World VR Forum is recognized in 2016  by the International Telecommunications Union's SG Houlin Zhao for its commitment in implementing the World Summit Information Society's related activities, and for its contribution to the WSIS Fund, and is a founding member of the Global VR/AR Alliance.
All session by Salar Shahna