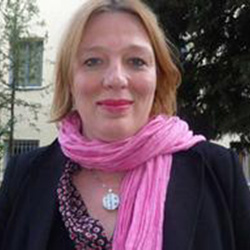 Maren Niemeyer
Goethe-Institut | Thailand
Biography
Born in Bremen, Germany, Maren  Niemeyer studied journalism, German philology and film theory in Paris and Berlin.
She has worked as a journalist, editor, documentary filmmaker and producer for national and international radio and TV channels, mainly for ARD, ZDF, DW-TV and the German-French cultural channel ARTE.
In 2007, Maren produced the ARTE/ ARD Documentary-Series about the magic hippie trail to Kathmandu in the late sixties and in 2008 she produced a worldwide broadcasted series about the Myths of German Design for Deutsche Welle TV.
From 2008 until 2009, Maren Niemeyer was a Commissioning Editor for the Documentary Film department of NDR / ARTE.
From 2010 to 2016, she was Program-Coordinator for the Film-Department of the Goethe-Institute Headquarter in Munich. Since July 2016, Maren Niemeyer is the director of the Goethe-Institute Bangkok.
All session by Maren Niemeyer